Professional Website Designing in Allahabad, India
Want to give your website an elegant & fresh touch? Why not hire the Best Website Designing Agency from Allahabad, India.
Critical Thinkers + Creative Designers
DigitalGroot design websites with passion & heart. DigitalGroot is an experienced Website Designing Agency in Prayagraj that has a team full of talented, smart & experienced web designers. We design modern, elegant, fast-accessible, search-engine friendly & secure websites that fulfill all the requirements needed to ensure your online business growth.
Being the best website designing company in Allahabad, we have marked expertise in PHP, MYSQL, Drupal, Joomla, WordPress, Woocommerce, and JQuery.We implement & customize Javascript & JQuery Scripts efficiently so that your website is complemented by search engines.
Our tailored website designing and development services are convenient for small and large businesses. We are not only limited to web designing and development you can also connect with us for applications development. 
How do we design a website?
Imagination 

First we compile inspiration & imagine a prototype
Research
We look for all the necessary assets required
Prototype
Our team designs a prototype of your website
Review + Feedback

We do the final review and take the feedback from the client
Construction

Now we design the imagination and make it a reality!
Do you want to take your Business Online?
We can build your brand online & skyrocket your sales. Connect with us for instant support.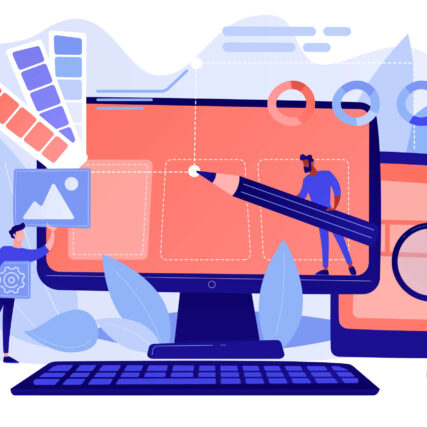 Best Website Designing Agency in Prayagraj – Modern & Creative Web Developer & Designers
Indeed, there are many web design companies that offer web design services but what sets us apart is our experience & detailed approach. While designing any website, we take care of every detail including color combination, symmetry in content, high-quality Graphics, and the right content arrangement. You can hire the best developers in Allahabad who are committed to providing a solution instantly. Connect with the best website developers in Allahabad right now!
Enjoy full-fledged Marketing Service under one Umbrella
DigitalGroot is a skilled IT company operating in Prayagraj since 2017. Our experienced and qualified staff works day in and day-out to ensure DigitalGroot serves its clients with the best online marketing service. You can enjoy all marketing services with us that incorporates Digital Marketing Strategy Creation, SEO service in Allahabad, Content Writing & Google Ads.